I never feel alone in the woods, though often there's no one else around. There's quite a bit of animal life along Sourdough Trail. Some is seasonal, like the turtles I'm now encountering. And this fall will likely bring the occasional black bear foraging close to town. When you know—or even suspect—that a bear's about, every noise in the brush has an edge to it, and your visual awareness is likewise heightened. But most of the time, throughout the year, the largest animals are deer.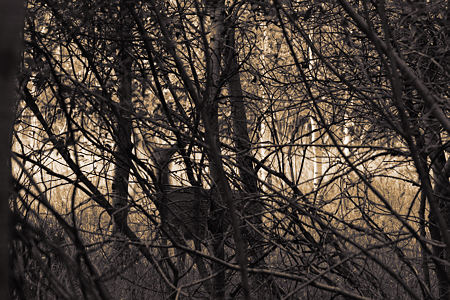 I don't see a deer every visit by any means, but they are common enough that I treated them as unremarkable, and seldom even considered photographing them. That was partly due to casually classifying myself as a landscape photographer, not a wildlife photographer. Small-minded yet justified, perhaps, by finding far more than I could manage even within that category. Narrowness can be a strength, or even a necessity. At any rate, it's clear that the animals belong to this place I am exploring and are therefore subject. Furthermore, this unusually curious deer, appearing as I walked a northern boundary one morning, deliberately approached to within ten feet and fairly demanded a picture.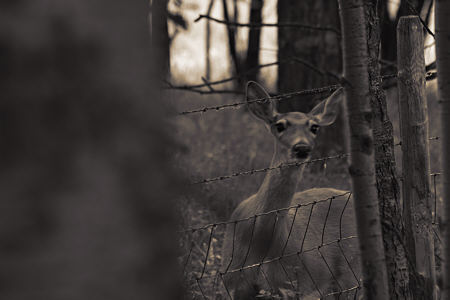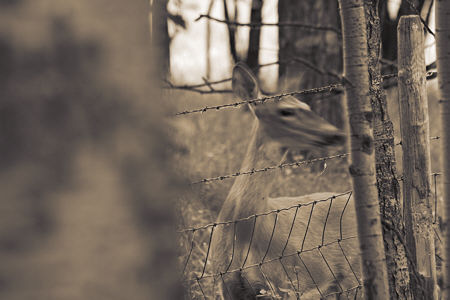 You may notice the stronger toning of these images, akin to thiocarbamide toning in the darkroom. It changes from purplish in the low register to orangish in the mid-to-high range. The second image of the deer at the fence being generally lighter, it acquires a very different overall cast from the preceding one. I'm finding the look somewhat artificial, but also mysterious in a way that seems to suit my skittish examiner.