The footpaths have been stream-free for two weeks, water flow is back to normal, and I'm still photographing leaves in sunlight from up close. I follow such tangents and inclinations if I can, just as I follow deer trails I come across. They often go interesting places, and are fun to explore in any case. There's no chance of getting lost; they always return to a main path sooner or later. Besides, it's all part of the program.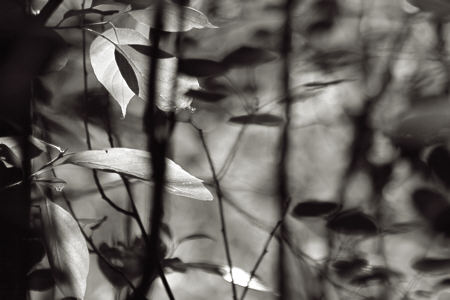 This particular tangent seems to be leading toward artistic thickets I've mostly skirted in the past. The charts just say, here be thorns. Those who have passed there, if they break silence, tend to speak in gibberish.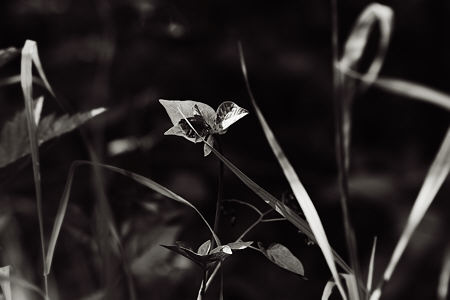 It's the simplicity that does it. Complexity, when structured so as not to overwhelm, is brimming with interesting relationships. There is the appeal of a detective novel in working things out, observing and thinking them through. Rich meaning is possible. There is much one can fasten on.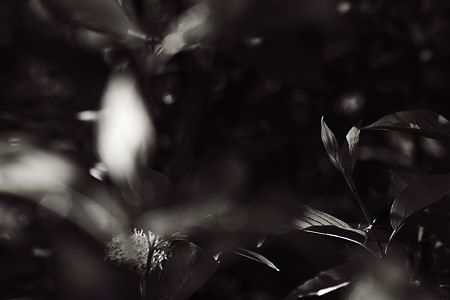 But simplicity offers only the basics. What about this shape? These three shapes? Why should I look? There's almost no information there. If I don't like it for itself, there's nothing.
It has to have beauty. Or something we may as well call beauty. So I'm learning what I find beautiful in simple shapes, simple relationships.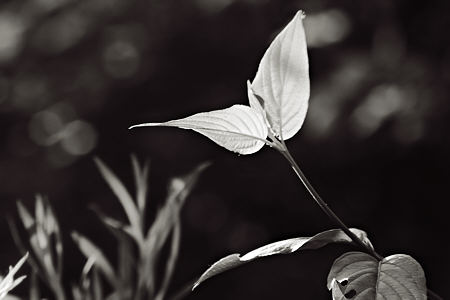 I've always loved the dark as well as the light, but haven't previously thought much about the elemental transition from one to the other. It's said a musician's skill is not in hitting the right notes, but in the movement from each to the next. That's the training I'm engaged in. Contrary to convention, I'm finding I like soft transitions, and especially transitions that vary from soft to hard along the edge of a shape. Hence my experimentation with focus. I also like mid-grays, particularly modulated ones standing out from their light or dark surroundings. I clearly have a long way to go at this.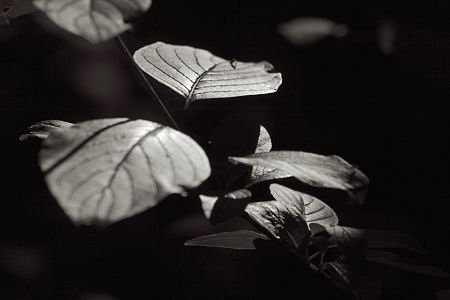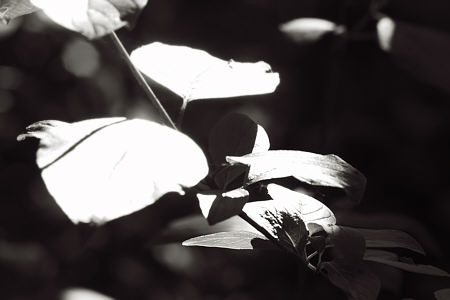 Independent of any artistic theory or practice, working on such subjects has implications for one's experience of a place. The fall of light on a leaf, especially if filtered through other leaves or trees, is constantly changing. Take a minute or two to watch for yourself. A scene that, in the large, has persistence and stability, possesses also a delightful flickering in the small, though it is hidden from the casual regard. The appearance of this one leaf, this surface I'm attempting to photograph, is tied to influences from afar. So much is obvious. Consequently, we are usually unaware of it. But I'm sure noticing these days. The shadows on the leaves tell a part of the story, if one cares to read. Perhaps the caring is what the beauty is for.